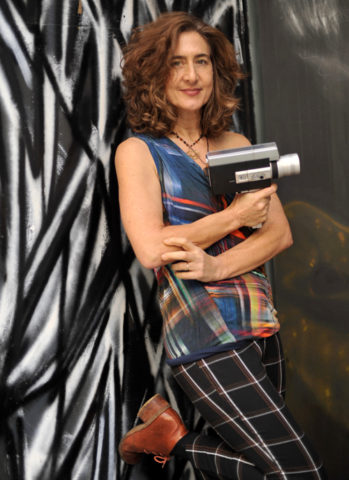 Award-winning director Varda Bar-Kar directs an array of productions, including feature projects, episodic television, short films, and cause-driven viral videos. Varda was born in England, to a South African mother and Romanian father and had lived on three different continents by the time she was ten years old. Her international upbringing provides her with a global perspective. She is an "artivist" filmmaker focusing her lens on meaningful stories exploring the breadth and diversity of the human condition. She faces society's challenges with an uplifting approach that speaks into possibility.
Varda transitioned into directing after working as a Script Supervisor for maverick feature directors like Jim Jarmusch, Wayne Wang, and Carroll Ballard. She developed her directing voice creating scripted short films, including the festival-winning Window starring Louis Gossett, Jr. Window screened at Cannes and aired across the United States on local affiliate stations in honor of Black History Month.
Varda's new music documentary Fandango at the Wall (Tiger Turn and Sony Music Latin) had a robust festival run and has been picked up by HBO/HBO MAX. Fandango at the Wall is an exuberant feature music documentary that follows renowned Grammy award-winning New York Maestro Arturo O'Farrill and his Afro Latin Jazz Orchestra to Veracruz, Mexico where he meets the masters of son jarocho and then joins them at the United States-Mexico border. They jam with the orchestra at a transformational music festival that takes place on both sides of the border transforming the barrier from an object that divides to one that unites. Quincy Jones, Andrew Young, Carlos Santana, and Kabir Sehgal serve as the film's Executive Producers. The film was funded in part by the Ford Foundation and Miranda Family Foundation.
Varda's documentary feature Big Voice screened at the United States Capitol in advocacy for Arts Education, broadcast on PBS winning a Bronze Telly Award, and streamed on Netflix. Her documentary A Million Spokes required four unique camera units each following a select group of cyclists riding across the state of Iowa in the largest, longest, oldest, bike tour in the world called Ragbrai. A Million Spokes aired nationally on the Documentary Channel.
Varda was selected to participate in Ryan Murphy's HALF Director Mentorship Program where she shadowed directors Brad Buecker and Gwyneth Horder-Payton. She went on to direct for the hit FOX show 9-1-1. Her episode entitled "Buck, Actually" stars Angela Bassett, Jennifer Love Hewitt, and Peter Krause.
Varda sits on the board of NewFilmmakers Los Angeles and is a member of the Directors Guild of America (DGA), the International Documentary Association & Film Fatale.